Replacement Body Details
1969 Chevrolet Camaro Convertible W/Convertible Frame, Doors & Deck Lid
Coupe Part number: CA69CV
Price: $14,500*
This 1969 Camaro Convertible body shell comes complete with doors and deck lid pre-hung and properly fitted. The convertible top frame is not mounted to the body.
Moonlight Drive Classics is the only company that includes the complete body package which consists of both front fenders and hood – ready for installation! A mini tub version of the 1969 Camaro Convertible is available for an additional $1,500 upcharge. Three firewall options are also available.
All classic replacement body shells are encased in a strong welded steel cage with forklift shoes for easy loading and unloading. The body shell is bolted to the shipping cage.
This 1969 Camaro Convertible body shell is officially licensed by General Motors Corp.
The Camaro Convertible body shell – crated and ready to ship weighs 1,700 pounds and the dimensions of the shipping cage measure: 135″ x  84″ x  54″
*Please note: A $495 crating and handling charge is applied to all purchases.  We ship all bodies FOB Camarillo, California Freight prepaid.  You may also make your own freight arrangements.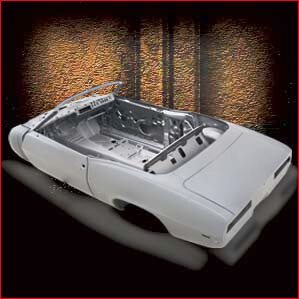 ---
Media Gallery, Click to enlarge
---